[October 8, 2010] Fujiyama Roll will be on stage at the first Durham Beers/Durham Bands@Casbah Durham. The Casbah is a brand new music venue in the heart of downtown Durham, NC. Please check it out! http://casbahdurham.com/
<![if !vml]>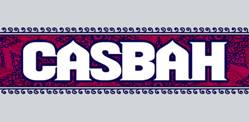 <![endif]>
[September 30, 2010] We had a great time at Kim's birthday party at the Pinhook!! Thanks everyone for coming out, sharing equipments and having us!!
[September 26, 2010] Unfortunately, almost all of outside stages in the Carrboro Music Festival are canceled due to the expected bad weather. Fujiyama Roll WON'T perform today. Sorry about that.
[September 18, 2010] Mega thanks to everyone came to see at the PAC in JapanFest2010! We had a really great and precious time with you all. Hope to see you all again!
[September 2, 2010] We are going to perform at the Misbehaver's Birthday. The show will start at 8:00pm and we may start around 9:00pm. Anybody welcome and free! Don't miss the other bands we perform with. The Pinhook, Durham, on September 29, Wed.
Description:
Celebrating another year of being alive! We are gonna rock out the evening with four fun bands, that also happen to include people I love.

It is going to start early since it is a weeknight.

The line-up is gonna be:
...Joy in Red with special guest. If you haven't seen Joy in Red yet, then imagine Tom Waits picking an electrified banjo. Joy in Red is comprised of Matt from Sequoya, Rob from Beloved Binge and Mike on drums (aka Tofu Mama).

Fujiyama Roll hits the stage second. If you haven't seen their Japanese rock n' roll. They are amazing musicians and fun as hell to watch perform. Unless you have made several trips to Japan in your lifetime, you have not seen anything like this before.

In third place is The Hell No! A new band to hit the scene, but they have already blown away the crowd's at Local 506 and Slim's. This will be their third show. The Hell No! is Brenna on vox, Val Allen from Blood Red River on guitar and Kim T, formerly of PATC on drums.

Headlasting, is the masters of surf-punk, Blood Red River. They are always ready to provide you with the action ♥ adventure you are missing in life. I have often thought of them, as if my life was a combination of Russ Meyer, Quentin Tarantino, and Jim Jarmusch films, then they would be the soundtrack.

Age Requirement: 21+
<![if !vml]>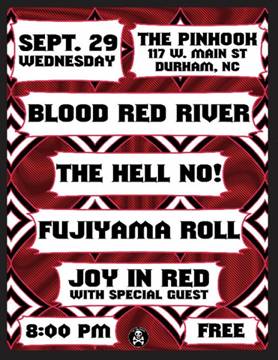 <![endif]>
[August 13, 2010] Huge thanks to everyone who came out to see us at LOCAL 506! We had an awesome night!! and the bands we played together were really great!!! From BJ Junko
[MAY 2, 2010] Many thanks to everyone who came out to Pinhook last night! We had a great time!!! Thanks all!!! ARIGATO-GOZAIMASHITA!! From BJ Junko
<![if !vml]>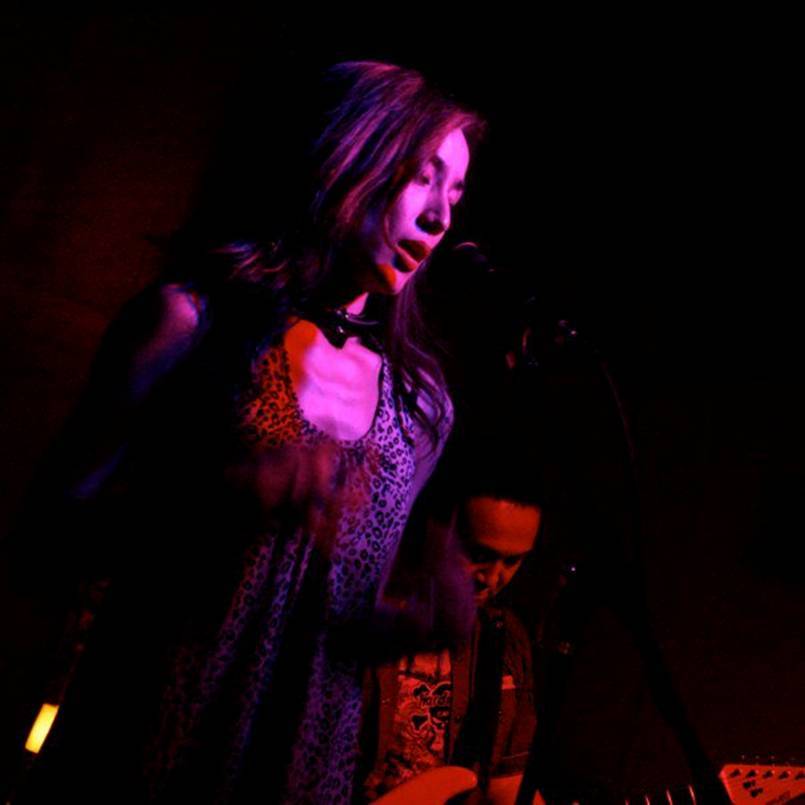 <![endif]>
Photo taken by Kim from MISBEHAVED RECORDS. Thanks a lot Kim!
[APR 18, 2010] Sorry We kept you all waiting, but WE'RE COMING BAAAAAACK!! ......MAJIDE! ..........means "seriously" in Japanese : )
We'll show you NEO-FUJIYAMA ROLLING. We're so excited and can't wait for seeing you all! See you on MAY 1st at the Pinhook!
[MAR 31, 2009] We halt activity for an indefinite time. We greatly appreciate your support and wish to see you all sometime.
[MAR 21, 2009] We canceled the show at Blue Bayou on April 25.
[FEB 23, 2009] We had a big and fun party yesterday. thanks for coming! Yotch will go back to Japan permanently next week. We miss you, Yotch! Next our show schedule added! We'll play with ROOTZIE at the Blue Bayou Club.
[Jan 16, 2009] Our show on Feb 13 at Duke is open to the public of all ages and free of charge. Please feel free to invite your friends and bring your kids! The only charge is parking, which is regulated by the University Parking and we cannot change the rates. Sorry, but do consider that we put on free shows, we have free food and giveaways!
[Dec 18, 2008] New show schedule added! we'll play with Virgo 9 at the Broad Street Café.
[Dec 5, 2008] New show schedule added! we'll play with Pistil and The Virgo 9 in the Duke Campus Concert Series.
[Nov 1, 2008] We had a great time to play at Wilson Park. Please check our latest Halloween video on YouTube!
[Oct 12, 2008] Yotch, our guitarist, is leaving and playing in his new Band!! So we are going to play at James Joyce as a four-piece band.
[SEP 9, 2008] New show schedule added! we'll play as part of TROIKA festival!
[Aug 16, 2008] Our planned performance at JapanFest is cancelled, but we'll perform on the stage at Carrboro Music Festival!
[May 19, 2008] Member pages are updated! Our drummer Aquita needs to help another band in NC-RTP-ROCK, so he would play as a support member. We welcome MATT as a new drummer!
[May 11, 2008] New show schedule added!
[April 2, 2008] New show schedule added!
[February 26, 2008] New show schedule added! 3/19/08@Marvell Center, Durham. This show will be Kay's last stage. She will leave Durham for Japan. We all miss you, Kay!
[January 25, 2008] Today's the News&Observer carries our story as an article in the "What's Up".
http://www.newsobserver.com/442/story/902461.html
[December 25, 2007] Member pages are updated!
[December 24, 2007] WELCOME TO OUR MYSPACE PAGE @ http://www.myspace.com/fujiyamaroll
[December 22, 2007] New show schedule added! 1/28/08@LOCAL506
[December 20, 2007] New Drummer, Aquita, joined in us!
[December 13, 2007] Joe has gone back to Japan! We miss YOU!!
[November 15, 2007] New Sax Player, "Moody" Chihiro, joined in us!
[November 3, 2007] Wow! Latest videos are uploaded!!
[November 3, 2007] Kay's profile is added.
[November 1, 2007] Ken has gone back to Japan! We miss YOU!!
[October 1, 2007] Show schedule is updated.
[July 9, 2007] Members' profiles are updated.
[July 4, 2007] B.J.'s profile is updated.
[July 3, 2007] The official site opens.